Farming deaths have fallen
News
•
Thursday 04 July 2013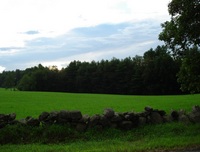 Recent figures have revealed that the number of deaths on agricultural premises last year has fallen compared to the previous year.
The Farm Safety Partnership stated that 'everyone in our indutry has a role in reducing accidents' after it was revealed that 29 workers and seven members of the public died in incidents on agricultural land last year.
These figures represent a drop on 2011/12, when 35 workers and six members of the public died on farms around the UK. This drop in fatalities is definitely good news for the sector, however, agriculture still remains the industry with highest rate of deaths in the country.
The Health and Safety Executive published these new statistics during Farm Safety Week.
Benjamin Ellis, the NFU adviser, spoke to the union's official website, saying: "It is sad that agriculture has retained the highest fatal accident rate for a number of years now. But we are actively working hard to try to improve the record.
"The Farm Safety Partnership is leading the way in raising awareness, with each organisation represented dedicated to raising standards.
"The NFU meets with our members regularly to discuss the importance of on-farm safety and we produce a number of safety-related briefings and business guides to help identify risks.
"It is vital that everyone in the industry plays their part - simple measures like telling someone what you are doing, taking a charged mobile phone in your pocket and knowing that a 999 call doesn't need signal from your provider can save your life.
"But it is also important that people take action to prevent accidents from occurring like following the safe stop procedure (hand-brake on, controls in neutral, engine off, keys out) and not cutting corners and taking risks such as when working at height or handling livestock.
"The NFU is committed to helping to reduce these accident statistics and believe that a good safety record is proof of a professional, modern industry."
The NFU chairs the Farm Safety Partnership, which is an industry-led initiative of 30 organisations. Its aim is to improve agriculture's safety record and reduce the rate of deaths and serious injuries.
News