Farming Ads Spring Photo Competition winner announced
News
•
Monday 28 April 2014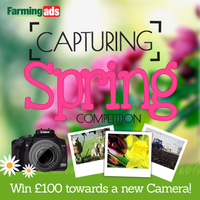 So, the Farming Ads annual Spring Photo competition came to a close last week with the winner being voted for by you - our users.
There were plenty of fantastic entries throughout the competition, but there was one stand out winner - Ian Rees.
Ian's lovely picture of his son and a lamb received nearly twice as many votes from members of the public as the second placed picture, meaning the vouchers for a new camera now belong to Mr Rees.
See the winning picture below, along with a number of other selected favourites from this year's competition...

The winning photo: Ian Rees

Mandy Colbourne



Carlton Boyce

News