Farmers warned after spate of farm fires
News
•
Wednesday 13 August 2014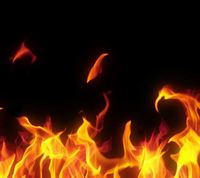 Farmers up and down the country are being encouraged to take extra precautions to prevent fires, as 25 farm fires have been reported in five weeks in Shropshire.
The National Farmers Union has urged farmers to be 'safe and vigilant' stressing that the causes of the Shropshire fires varied from machinery faults, arson and spontaneous combustion due to the recent hot weather.
As you are most definitely already aware, fires can be devastating for any farm business and can destroy crops, endanger lives and livestock as well as damaging property.
They also leave you with a huge clear up opportunity.
The fire service has urged farmers to follow some advice and guidance in order to remain as safe as possible.
Derek Taylor, the Shropshire Fire Crime Officer, said: "Each year in the UK approximately 1,600 farm buildings and thousands of acres of land and crops are destroyed by fire.
"Most fires on farms can be prevented if farmers are aware of potential fire hazards."
One thing that was noticed was that some of the reported fires were arson attacks and farmers are being advised to ensure that they maintain security measures in order to reduce the risk of arson.
Other advice includes maintaining locks, gates and fences, which will help prevent vandals from gaining access to the farm. Security lighting where possible is another good idea as are sensors. Dogs and geese can also be used to provide an early warning of intruders.
Mr Taylor continued: "Farm fires can be very labour intensive and can at times stretch fire service resources, crews can be on scene for long periods of time to ensure that a fire does not spread to other buildings."
The fire service have offered up a nice list of things that farmers can do in order to prevent fires on their farm. Read the list here:
Keep farm machinery in good working order, especially when coming out of storage.

Control smoking in the workplace.

Ensure work areas associated with welding and tools like blow lamps are as protected as possible.

Remove hay and straw from the fields as soon as possible after harvesting and stored.

Store hay and straw separately from areas housing fuels, livestock, agrochemicals and farm machinery.

Fertilisers and pesticides should have the correct signage and be kept under lock and key.

Inform the fire service if more than 25 tonnes of fertilisers and pesticides is stored on farm.

Carry out regular electrical safety checks.

Assess farm security regularly.

Maintain firefighting equipment and check that it is in good working order.

Refuse should be disposed of safely and on a regular basis.

Ensure that escape routes and passages are kept free from any stored materials or equipment at all times.

Ensure everyone on farm knows where the nearest phone is located and how to call the emergency services.

Make a note of the grid reference of properties especially in remote locations in the case of emergency.

Prepare a fire routine and action plan, make sure family and farm workers know what to do.

Farmers are encouraged to be safe and vigilant as 25 farm fires have been reported in five weeks in Shropshire.
News