Farmers to show anger about horsemeat scandal at NFU Conference
News
•
Wednesday 27 February 2013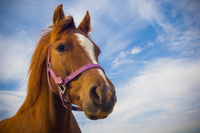 The BBC has reported that farmers are set to show their anger over the horsemeat scandal at the NFU Conference today (27 Feb).
According to the report, many farmers believe that the crisis over mislabelled food has damaged consumer confidence in the supply chain.
Peter Kendall, the National Farmers' Union president, said that the farmers are "furious" over what has happened.
He went on to say: "Farmers have spent many years working to ensure the British supply chain is fully traceable from farm to pack, and have upheld strong principles which are embodied in assurance schemes like Red Tractor.
"For me this is fundamental for consumer confidence."
The Environment Secretary Owen Paterson, along with the Tesco chief executive Philip Clarke will be addressing the conference which begins today in Birmingham.
Though there is plenty of anger surrounding the horsemeat scandal, there is also a growing sense that this may be a moment of opportunity for British farmers.
They believe that tight regulations, including those introduced in response to the BSE crisis, mean their part of the food industry now sets the standard for others to follow.
Farmers have been calling for the food supply chain to be overhauled and simplified for a long time and they now feel that the latest scandal will cause the government, along with the rest of the industry, to stand up and listen.
Meanwhile, a poll for the NFU suggested that more than three-quarters of people wanted supermarkets to stock more food from British farms.
Some 43% of the 1,000 people surveyed said they were more likely to buy food traceable from UK farms in the wake of the horsemeat scandal.
Mr Kendall said: "Our research also demonstrates the strong demand for British-farmed products, and so retailers, processors and food service companies have a responsibility to ensure there is clear country of origin labelling on the products that consumers purchase."
Speaking to the BBC, Mr Clarke said his supermarket would work more closely with British farmers in response to the horsemeat scandal.
He said: "The reason I'm here today talking to the NFU is to signal a change, a change which means we'll have the most stringent testing regime, a change that means we'll bring production closer to home, and a change that means we'll have more partnerships with farmers here in the UK.
The director of the International Meat Trade Association, Liz Murphy, said passing off horsemeat as beef was criminal behaviour that had to be stamped out, as imported meat should be of equal standard to that produced in the UK.
"The public health and animal health conditions have to be the same," she said.
"So when we supply meat from outside the EU, that has to comply with the same conditions that our farmers do and our manufacturers and factories do in the UK."
News