Farmers for Action to protest against milk price cuts
News
•
Monday 06 October 2014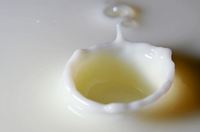 Farmers for Action are protesting against the recent cuts in milk prices today at Market Drayton in Shropshire.
The Farmers Guardian suggested that Muller is going to be the target of the protest, with the FFA set to congregate at around 8pm.
The FFA has said that this will be the first official protest with others set to take place in key areas soon.
Muller has been targeted after it announced further price cuts last week. From the 1st of November Muller's prices will drop by 1.9ppl, which will see the overall cost be 27.1ppl.
In response to their price cuts, Muller UK and Ireland have spoken out stating that the cuts are due to very high levels of milk production combined with weaker demand for dairy commodities.
A number of farmers from Frome, Market Drayton and Carmarthen have all said that they will support a protest, however, the National Farmers Union is not backing it.
The NFU stated that the current cuts cannot be blamed on processors or retailers, though they did state that they are monitoring the actions of milk buyers.
Click here to see what Muller said in response to the debate.
News