Farmers' daughter sues parents in heated legal debate over estate
News
•
Tuesday 11 March 2014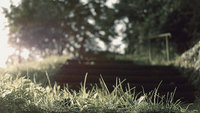 A farmer's daughter, who missed going to Young Farmers' Club dances because she had to stay at home and tend the cows, is suing her elderly parents for a share of their £7m estate.
Eirian Davies, 45, was supposedly denied access to dances and other fun activities, which her sisters were allowed to attend, because her parents said that she would one day have to step into their shoes and take over the family's farm.
Miss Davies insists that she was constantly assured by her parents, Tegwyn and Mary Davies, who are now in their 70s, that she would take over the family's 'golden egg' - thriving Caeremlyn Farm, Whitland, Carmarthenshire, and its herd of pedigree Holstein cows.
According to Wales Online, she has claimed that a substantial stake in the 200-acre farm is no more than her due for the 'years of toil' she put in.
However, her parents are fighting her every inch of the way and the case is now under the legal spotlight in the Court of Appeal.
When testifying at an earlier date, Miss Davies said that she missed out on going to Young Farmers' Club dances with her two sisters as a teenager because she had to stay at home and deal with her farming chores.
She said that her parents told her that her sisters were not interested in the farm and that her patience would one day be rewarded.
She was reported to have told Judge Milwyn Jarman QC, "They always told me that the farm would be left to me. Even on my birthday, when the other girls were having things, they would say - 'you will have the damn lot one day, it will all be yours'."
According to Wales Online the judge found that Miss Davies had "established an entitlement to a beneficial interest in the farm or farming business". However, her parents are now challenging that ruling before three of the country's most senior judges.
Timothy Fancourt QC, who was representing Mr Davies, 75, and his 76-year-old wife, argued that their daughter had earned a fair income during her stints working on the farm. They also said that she was provided with 'bed and board'.
They also put Miss Davies through agricultural college and the QC added: "She said in terms that agriculture was her love and she wanted to be on the farm."
Miss Davies worked elsewhere, but failed to increase her earnings, according to Mr Fancourt, who said that she only earned £5,000 while working as a consultant for Slimming World in 2006.
Representing Miss Davies was Leslie Blohm QC, who said that promises were made by her parents from 1985 when she was 17, and she had worked "extremely long hours" with the cows - at times unpaid and sometimes for nothing.
Whenever she complained to her parents about her wages, she was apparently told that the farm would ultimately belong to her. She was also often told "not to kill the goose that laid the golden egg" according to the barrister.
After plenty of legal debate, Lords Justice Richards, Underhill and Floyd have reserved their judgement on the outcome and will give their ruling at a later date.
For the full story click here and head to Wales Online.
News