Farmers could convert barns without the need for planning permission
News
•
Friday 09 August 2013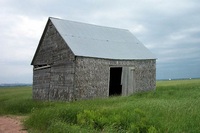 Farmers in the UK could soon, according to the NFU, be able to convert barns for residential use without specific planning permission. These changes were put forward by the Department for Communities and Local Government.
Speaking about these proposals, the NFU has called them "radical" and exciting.
David Collier, the NFU chief rural affairs adviser, spoke about the union's excitement with the changes which could see farmers able to make their own assessment of how their farm buildings should be used.
Collier is pleased at the amount of trust that is being put in farmers allowing them to "do the right thing with their buildings".
"With the possibility to more easily convert barns this will help enable business succession – with a new home for a retiring farmer or the next generation for example – as well as meeting the needs of the market," said Collier.
"If the proposals are confirmed there will be more opportunities for people to move into the countryside to live, or to enjoy holiday accommodation.
"There will be precautions to ensure that any potential small minority of people are not tempted to abuse the concession. The liberalisation will apply only to buildings already in existence from March 20 2013. And anyone who converts a barn will lose their agricultural permitted development rights for a decade."
The NFU will consult its members on the details of the proposals and submit its considered views to DCLG in October.
News