Farmers calling for badger cull in Wales
News
•
Wednesday 28 August 2013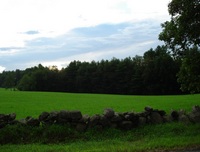 One of the leaders in Welsh farming has urged the Welsh Government to follow England's lead and begin to cull badgers in an effort to control the spread of tuberculosis in cattle.
Stephen James, the deputy president of the National Farmers Union (NFU) Cymru, has also expressed some concerns with his nation's government over their vaccination policy. He fears that the Welsh vaccination could undermine the English cull, with infected badgers living along the border.
One of the pilot areas being used for the cull is the county of Gloucestershire, which is on the Welsh border. However, officials are maintaining that the killing is only taking place in a 300 square kilometre area located away from the border.
Owen Paterson, the UK's Environment Minister, believes that the cull should be rolled out to other areas of England.
Last year, Assembly Environment Minister for Wales adopted a policy of vaccination to combat TB in badgers, when Wales had previously been in favour of a cull.
The NFU is claiming that the success of vaccinations is unproven and that in other countries, including New Zealand, Australia and Ireland, TB has been successfully tackled in livestock by culling the wildlife which spreads the disease.
The Welsh five-year badger vaccination project is into its second year now and it started in parts of Carmarthenshire, Ceredigion and Pembrokeshire last May.
It is a widely accepted fact that badgers spread TB in cattle, and some officials are estimating that around half of herd infections are coming from the small woodland mammals.
Mr James, 60, has a beef and dairy farm with 600 cattle, that he runs with his son Daniel, 30 and his wife Joyce, 57. His 300 acre farm is in Pembrokeshire, and when speaking to WalesOnline about the issue of TB in cattle, he said: "What's going on in North Pembrokeshire (with the vaccination programme) is very much a trial.
"If England control the disease and Wales has only gone down the vaccination policy route and the disease was still pretty rife in Wales then it would impact on cattle movements."
The UK Government says culling of badgers is necessary as part of efforts to tackle spiralling rates of tuberculosis (TB) in cattle. Some 28,000 cattle were slaughtered last year in England, and officials warn costs to the taxpayer of dealing with the disease could reach £1bn over the next 10 years.
But animal rights groups and organisations like the Badger Trust are vehemently opposed, with critics suggesting the gains will not be very large and costs could outweigh benefits.
News