Farmer targeted by thieves 11 times in three years
News
•
Monday 20 January 2014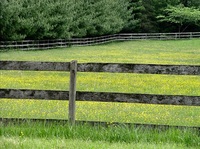 A farmer in Lincolnshire has been targeted by thieves a total of 11 times in just over three years and has recently called for greater protection from the police.
The latest burglary at his Belle Vue Farm, in Springthorpe Village, saw the thieves smash through a workshop wall that was three bricks deep in order to steal a red Honda quad bike.
The quad bike was one of three that was stolen from the farm in the last year-and-a-half. It was chained to a stanchion and locked inside a steel cage, however, that didn't even prevent the theft.
Speaking to Farmers Weekly, Charles Anyan, the tenant farmer in question, said: "I bought the bike second hand for £3,500 because I no longer see the point of buying a new one because they just get stolen all the time.
"Luckily, I'm insured. I would like to thank NFU Mutual for their understanding."
He went on to state that he has been targeted 11 times in just over three years and every single time the police have labelled the case as 'undetected'.
"In Lincolnshire, tractor thefts and hare coursing is down. But that doesn't make me feel any better on my farm," continued Charles, 32.
Thieves had attempted twice before to steal the quad bike, however, they failed both times before managing to take it on 5th January.
Since the latest burglary, Charles has reviewed the security measures on his arable farm and he is now looking into CCTV.
However, he also called for greater protection and co-operation from police.
When speaking to Farmers Weekly, he said: "I would like to see Lincolnshire Police work closely with farmers to take these people off the streets.
"The police and farmers need to join together to make a more robust defence against these people. They are criminals and should be treated accordingly.
"The odds are stacked very firmly in favour of the criminal these days – and that's unacceptable."
Charles is a delegate of the NFU regional crops board and he is now working with the NFU in order to try and secure talks with Lincolnshire police and crime commissioner Alan Hardwick to discuss the crime epidemic that is having a terrible impact on his farm.
Other unsolved crimes that have taken place on his farm have seen the rented home on his land being raided and stripped of copper, his farm home has also been burgled and he has also had his chainsaws, farm tools and diesel stolen - siphoned directly out of tanks and tractors.
Charles went on to urge farmers to report all crimes that affect their farms, in order to allow the police a chance to see the scale of rural crime.
Inspector Simon Outen, a community policing inspector for West Linsey also spoke to Farmers Weekly, saying that Lincolnshire Police are currently aware of the burglaries that Charles has suffered as well as the extensive security methods that he has put in place.
He said: "Regrettably despite his efforts, the offenders have shown themselves to be determined to force entry to the property, and we share his frustrations and anger.
"The offences remain under active investigation, with Lincolnshire Police seeking to secure sufficient evidence to bring the offenders to justice."
News