Farmer sadly dies after JCB he was driving falls into slurry pit
News
•
Monday 08 September 2014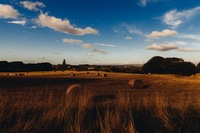 Last week a farmer tragically died after the heavy machinery he was driving end up in a slurry pit.
The 50-year-old man, who has not been named, was transferring a heavy load of manure from one pit into another, when his JCB fell into the pit and became almost entirely submerged.
It is believed that the farmer, who was a father of two, was in the pit for over an hour before his body was removed.
Just after 8am his fellow farm workers raised the alarm and called the emergency services to the farm in Hooke, which is near Beaminster in Dorset.
A Dorset Police spokesperson said: "At 8.25am Dorset Police received reports of an industrial accident at Westcombe Farm in Hooke.
"A farming vehicle entered the slurry pit and the driver died in the incident.
"The death is not being treated as suspicious and the Health and Safety Executive has been informed."
Two tractors were required to remove the JCB from the pit.
News