Farmer 'ran over my dogs after threatening to shoot them' in dispute over trespassing
News
•
Tuesday 22 April 2014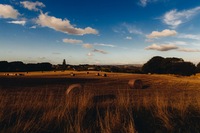 Jeremy Furnell, 46, was walking his two miniature dachshunds, 18-month-old Misty and 23-month-old Mr Bojangles, when the incident occurred.
Mr Furnell was walking his dogs on the farmer, Brian Risley's land, when Mr Risley drove over in a red van.
Mr Risley, 76, was then reported to have shouted at him to get off his land before threatening to shoot the dogs.
The incident, which occurred on 3rd April this year on Mr Risley's Plantation Farm in Manea, Cambridgeshire, then turned sour.
Mr Furnell claims to have then grappled with the farmer and removed his shotgun, throwing it to the ground saying "You can't shoot me now!".
It is then reported that Mr Risley revved his engine causing the dogs to run away before driving after them and running them over 100 yards away.
Mr Risley, however, is denying these claims and said that Mr Furnell had punched him unconscious before pointing the gun in his face and shouting: "I'm going to shoot you, now." according to The Express.
After telling Mr Furnell to get off his land and threatening to shoot his dogs, Mr Furnell then said that he lost his temper and 'grabbed his firearm' throwing it on the floor.
Mr Furnell said that the farmer then drove his dogs down.
"His right wheel went right over Misty and Mr Bojangles was hit by the bumper," Mr Furnell told the Daily Mail.
"The farmer just drove off like a coward. My little girl Misty managed to drag herself towards me. I picked her up and she looked into my eyes and just died there and then. It was so horrible."
Mr Risley has another version of events.
"I was on my way to pick up a prescription when I saw him. He was after egrets. He kicked me out [of my van].
"When I came to my senses I got straight into the van and drove away. There is no way I saw any dogs. I didn't feel any bumps."
He also told The Express: "He knocked me unconscious and when I came round he had a gun and was pointing it at me.
"He said he was going to shoot me, but I knew there were no bullets in the rifle. I thought he wasn't right in the head so I made off at speed."
Both men involved in the incident then called the police and Mr Risley was arrested the same day on suspicion of threatening violence and causing criminal damage. A few days later he was told the case was being dropped for lack of evidence.
This is a serious issue and it will be interesting to see if anyone ever gets to the bottom of the events. However, it does raise a serious issue regarding dog walkers heading onto farmland.
What does everyone think about this?
Adam Rowden is a writer for Farming Ads view his
Google
+ page.
News