Farmer puts turbo engine in tractor - Make sure you watch this video!
News
•
Wednesday 03 September 2014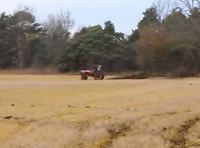 Take a look at the Volvo Terror, a tractor that has had its diesel powerplant replaced with a turbocharged four-cylinder engine from a Volvo 240 Turbo. .
The tractor was modified in Sweden by Richard Nilsson and could make ploughing fields that bit quicker. Well, maybe not, but it sure looks fun to drive!
Don't forget to LIKE OUR FACEBOOK PAGE below for more farming news.
News