Farmer purposely 'drove over police officer neighbour in his tractor' after feud
News
•
Monday 01 September 2014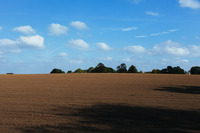 A farmer has had to appear in court after he allegedly ran over his neighbour with his tractor during a fight over a dirt track leading to his farmyard.
Frank Ainsworth, 64, had been locked in a three year feud with his neighbour police sergeant Colin MacDiarmid, 43, over access to the farm.
Mr Ainsworth spotted his neighbour digging holes at the side of a gravelled lane next to the officer's rural cottage before confronting him.
It was reported that the farmer told Sgt MacDiarmid to stop digging and then said that if he didn't comply he would "drive over him" in his tractor.
Sgt MacDiarmid warned Mr Ainsworth that he would be committing a criminal offence if he carried out the act. However, Mr Ainsworth went home before returning later at the wheel of his 20mph tractor.
It was then claimed that he drove straight at his neighbour, colliding with Sgt MacDiarmid's leg whilst also crushing his wheelbarrow and the traffic cone he had put out for safety precautions.
According to the Telegraph, the police were called in to investigate the incident and discovered that the two men had been feuding for three years over the access and right of way to Ainsworth's Lancashire farm.
It was also stated that there had been up to 20 incidents reported to the police where the farmer had been questioned on suspicion of harassment. However, Ainsworth denied wrongdoing claiming that any damage to Sgt MacDiarmid's wheelbarrow and the injury to the police officer, were caused accidentally.
During the case the prosecutors discovered that Sgt MacDiarmid was seconded to patrol at the forthcoming NATO summit in Cardiff when he was due to testify in court.
The case went ahead without the officer present and therefore the prosecution offered no evidence leading to the case being thrown out.
Speaking after the case, Mr Ainsworth, who was awarded his costs, stated that he had reported Sgt MacDiarmid to the Independent Police Complaints Commission.
He spoke to the Telegraph saying: "He was forever digging holes in the farm road and it was always awkward for me to get past but he knew all the right words to say to me. I would tell him, 'give over trying to fall out with me'.
"It has wound my wife up and she has ended up ill because of this. There have been about 20 incidents over the last three or four years. I just want to go back to sorting my sheep out."
He added: "This has been a phenomenal amount of police time and a waste of taxpayers cash. As regards his injury I have had worst grazes on my hands catching sheep. I was doing 5mph on my tractor and he was digging in the road in the dark - I simply didn't know he was there. This has been beyond being a nightmare. Life will be better now."
News