Farmer lures his cattle in with trombone
News
•
Wednesday 06 August 2014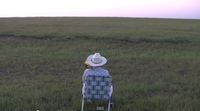 A US farmer has discovered a novel way of entertaining his herd of cattle, he plays his trombone to them.
Derek Klingenberg, from Kansas, is reported to have described his farm as a place where he raises "grain, beef, kids and creativity".
He posted the video of him serenading his cows onto YouTube.
The video shows 35-year-old Derek sitting alone in a field playing his trombone and as the music goes on, you can see a cow appear over the horizon.
Then, another appears and eventually the entire herd is marching towards their musical master.
The cows then line up in rows in front of Derek and begin mooing along with the tune.
Whilst he has been playing the trombone since he was in school, Derek has only been playing to his cows over the past five weeks.
Even though the cows are curious animals, they always come running because they know they are in for more than just a musical rendition.
In fact, the music always coincides with a lovely snack of molasses, which is the main draw for the cattle.
Speaking to the Daily News in the USA, he said: "When they hear it they know that they are getting a treat. They're curious. They're a good audience."
Watch the video below now...
Adam Rowden is a writer for Farming Ads view his
Google
+ page.
News