Farmer jailed for failing to register cattle
News
•
Wednesday 17 September 2014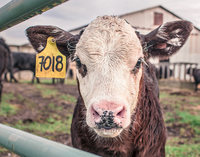 A farmer from Dorset has been jailed after he failed to register his animals to ensure their movements could be traced as part of animal disease controls.
Andrew Morris Newsam, 48, was sentenced to 24 weeks in prison at Weymouth Magistrates Court on 11th September 2014.
He pleaded guilty at the trial to breaching the Tuberculosis (England) Order 2007 by not presenting an animal for testing.
He also pleaded guilty to eight offences under the Cattle Identification Regulations 2007, which related to his failure to register the births and deaths of cattle on his farm.
An investigation into Mr Newsam's farm was undertaken by Dorset County Council's animal health officers who were assisted by a veterinary officer for the Animal Health and Veterinary Laboratories Agency (AHVLA). And it was this investigation that led to the court case.
Bovine TB, as you are most certainly already aware, is a huge problem in the British farming industry. Due to this, the testing of cattle for Tuberculosis is one of the most important measures in helping prevent the spread of the disease.
Only tested and disease free animals are allowed to be moved from one location to another.
Mr Newsam failed to present a calf for testing and claimed, initially, that it was too young to be tested. However, it was subsequently revealed that the animal was over the minimum age of 42 days, meaning that it should have been tested.
Farmers are required to comply with a range of measures including cattle registration, identification and movement, in conjunction with the Cattle Identification Regulations 2007.
These rules are in place not just to prevent the spread of bovine TB but also to protect other farm animals against the threat of BSE and foot and mouth disease.
Mr Newsam had previously pleaded guilty to similar offences in May last year and was handed a suspended 20 week prison sentence. Due to the seven of the more recent charges being of a similar nature, the magistrates revealed that Mr Newsam would have his suspended sentence invoked and would also be handed an additional four weeks imprisonment for a further two charges.
This is a perfect example of why all farmers and anyone who owns livestock should make sure that they are playing by the rules. It is vital that you register your animals correctly otherwise you may end up in a similar position.
News