Farmer has 200 sheep stolen from his fields in recent years
News
•
Thursday 14 August 2014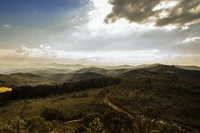 A farmer in Sutton has now had over 200 sheep stolen from his fields after rural thieves struck again.
Chris Heath, 35, of Sutton End Farm, in Higher Sutton has had the large number of sheep stolen, worth around £30,000 in recent years.
Last month he had 11 shearling ewes taken from his field with each of these animals worth an estimated £200.
In July last year he also had four pedigree Beltex ewes stolen along with 33 lambs, and in 2010 he had 57 ewes worth £160 each plus another 114 lambs.
This news is hardly surprising after figures were released by insurer NFU Mutual have shown that rural crime is on the rise in the UK.
In fact, incidents of livestock theft - or sheep rustling - have risen by 25 per cent in 2013, which was one of the worst years on record.
Speaking about the incidents he has encountered, Chris said that the sheep rustling usually takes place from the middle to the end of July when these lambs are ready to take to market.
He told the Macclesfield Express: "It's well organised, they are professional and know what they're doing. It's happening all the time now and it's getting worse. It makes me really angry, it's our livelihood.
"Rural crime has never been higher and agriculture can't stand it any longer."
The Heath family has owned and run the farm for four generations and Chris works alongside his dad Kenneth and mum Christine. They have around 1,400 ewes on 500 acres at Higher Sutton and 200 acres at Chelford.
Whilst the sheep are electronically tagged, however, Chris has said that thieves may cut these off before selling the animals. He has also stated that he feels farms are more vulnerable due to cutbacks in rural policing.
Chris continued: "We used to have policemen who knew everyone and would come every few days, but now there's no-one around to stop these incidents."
He said that it is getting harder and harder for farmers to survive.
We all know that their bottom lines are getting less and less as they are squeezed by the supermarkets, which means farmers really cannot afford to deal with this spike in rural crime.
News