Farmer dies in Northern Ireland after being injured by cattle
News
•
Wednesday 03 December 2014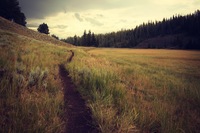 A cattle farmer has died on his farm in Northern Ireland after apparently being hurt in an incident involving cattle.
Robert Brown, 71, was killed at his farm on Saturday evening and a spokesperson for the Police Service of Northern Ireland said the death was not being treated as suspicious.
The police spokesperson continued: "The body of a man in his 70s was found at a farm on Mullaghmeen Road, Enniskillen, on the morning of Sunday 30 November.
"Police are examining the circumstances, however at this time the death is not believed to be suspicious."
The death is, however, being investigated by the Health and Safety Executive Northern Ireland (HSENI).
A spokesperson for HSENI said that they were "investigating the death of a farmer in County Fermanagh".
She went on to say: "Our thoughts are with his family at this most difficult time."
Tom Elliott, the Ulster Unionist Party MP, knew Mr Brown and told the local reporters that he had "apparently been hurt by animals".
He spoke to the BBC saying that it was a sad day for the community.
He said: "Robbie Brown has lived there all his life. He is very much part of the community. His sister lives close to him as well.
"He was just a character who was extremely well known and, I have to say from what I know, he wouldn't have had an enemy in the country."
The president of the Ulster Farmers Union, Ian Marshall, also spoke of the incident saying: "On behalf of the UFU I would like to extend our deepest sympathies to the family at this difficult time.
"This most recent farm death is another sad reminder that farms are busy workplaces and can sometimes be dangerous.
"The UFU, Department of Agriculture and the HSENI continue to work in partnership to raise awareness about the important issue of farm safety, and I would urge all farming families to ensure safety is a top priority on their farms."
News