Farmer confidence drops
News
•
Monday 15 December 2014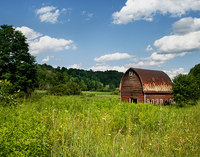 A new survey from the NFU has revealed that falling farmgate prices and market price volatility have contributed to a drop in farmer confidence.
The last two surveys carried out by the union had revealed a largely positive outlook within agriculture, however, these latest results have shown a dip in short term confidence among farmers and growers.
The fifth annual confidence survey revealed that farmers expected negative impacts on their businesses in the coming years.
The reasons for their lack of confidence are varied with 77% saying that regulation and legislation were an issue, 59% saing CAP reform, 56% saying output prices, and 52% saying input prices.
Another revelation was the fact that the proportion of farmers who predicted that 'output prices' would negatively affect them over the next 12 months had more than doubled compared to last year.
Meurig Raymond, the NFU President said: "This year has seen farmgate prices falling across various commodity sectors – arable, dairy, livestock and mixed - and this increased volatility has clearly impacted on our members' confidence.
"Given this highly volatile marketplace, it is no surprise to see that this has a knock on effect on confidence to invest on-farm, which is crucial in aiding our farmers and growers to produce more food in this country. It sends out clear signals that we as an industry must be given all the support we can to be more resilient during uncertain times.
"Our research does show that, on the whole, farmers remain relatively optimistic about their long-term prospects but no-one should underestimate the challenges that lie ahead in 2015. With an election less than six months away, the NFU and our members have a tremendous opportunity to outline these challenges to policymakers."
News