Farmer comes up against locals over 300ft-long 6ft-high fence!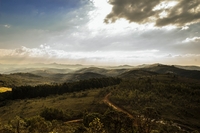 A farmer in Somerset has reacted to a clash with wildlife campaigners by building a 300ft long "high-security" fence in a countryside field.
Alan Brunt came up against local ramblers when he was attempting to purchase the field amid fears that he would damage the landscape.
However, he eventually managed to purchase the land for just over £200,000.
In order to protect his cattle from dog attacks and from the risk of disease posed by dog mess, Mr Brunt decided to encase a footpath in a 6ft-high fence that stretches for 300ft.
The path crosses the field at Rodden Lake Stream Meadow in Frome.
Speaking to Farmers Weekly, Mr Brunt said: "The biggest problem I had after buying the land was the dogs mess all over it.
"The dog mess creates germs which get into cattle and abort the calves. I don't want that happening.
He went on to describe that the fence had to go up "sooner rather than later" because he has to wait six months before the disease goes out of the land so he can graze cattle.
After speaking to the authorities, Mr Brunt was informed that he was allowed to put a fence up if he wanted to and therefore did so.
"I did it so it is safe for both parties," he continued, "people can walk through safely and dogs can walk through next to the cattle safely. I've seen lots of instances where cattle have chased dogs.
"It's to avoid injury. It's health and safety."
He could have used barbed wire instead of the fence, however, he decided against this as barbed wire would have caused too many problems to all who use the path.
Whilst Mr Brunt admitted that the fence may not look that nice at the moment, he did say that over time it will dim down.
Locals have, however, spoken out against the fence saying that it is "horrific".
Ruth Knaggs, a campaigner, has said: "It is the sort of fence you put around some kind of industrial site that you are worried about vandals attacking.
"It is completely over the top, it is really shocking."
Local Councillor Pippa Goldfinger compared the fencing to that of a high-security prison, stating that the field, which was once a pleasant meadow, is now unpleasantly restricted.
Mr Brunt has had support from one local, however, with Brian Dredge, 72, dubbing the farmer a "saint" for putting up the fence.
"Since the fence has gone up we haven't had any cars parking on the street, the volume of people have gone from our road, the dogs mess has gone, the noise at 6am has gone," Mr Dredge told Farmers Weekly.
Adam Rowden is a writer for Farming Ads view his Google+ page.
News