Farmer admits to shooting Coronation Street star's dog after it attacked his livestock
News
•
Wednesday 30 April 2014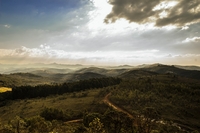 A farmer from Cheshire has admitted to shooting dead a cocker spaniel that belonged to the actress Sue Johnston.
Gordon Glover said that the dog was attacking his livestock and had killed his grandson's pet chicken before he shot it dead.
Mr Glover had initially denied seeing the one-year-old dog and Miss Johnston, 70, is said to be heartbroken after learning of the death of her pet, named Bo, according to the Daily Mail.
Bo went missing last week and Miss Johnston, who starred in Coronation Street and Royle Family, was appealing for the return of her dog.
Her dog was being walked by a professional dog walker, who gave her name only as Kim, when it went missing.
Kim had asked local farmers if they had seen the dogs, however, they all said no, including Mr Glover.
The 69-year-old farmer said that the dogs were running wild and had attacked his hens, killing one in front of his grandsons.
Speaking to the Daily Mail, he said: "I tried to drive them away but couldn't and in the end I got my gun.
"My grandsons are only five and two and they were in floods of tears. I didn't know what else to do. I don't understand why the dogs weren't kept on a lead."
He then proceeded to bury both dogs on his farm, which is near Marton in Cheshire. Bo, and the other dog Hattie, were among several dogs that were with the dog walker on the day of the incident. She said that they chased after a rabbit.
"Even though I shouted they didn't come back. I was looking for them for days," she added.
"On Friday I went round all the farms with photographs. I even went to see the farmer who shot them – but he denied having seen them.
"Sue's my friend. It's dreadful for her and nobody could feel worse than I do. I've also lost Hattie, who was my baby."
According to The Mail, Mr Glover was contacted by Cheshire Police who said that he was legally entitled to shoot the dogs. The farmer also came out and said that he was too embarrassed to admit that he had killed them when he was approached by the dog walker.
This incident comes days after a Cambridgeshire farmer was accused of running over two dogs on purpose in a row over trespassing.
The issue of dog walkers allowing their animals onto farmland is a pressing matter at the moment.
What would you have done in Mr Glover's shoes? Was he right to shoot the dogs?
Adam Rowden is a writer for Farming Ads view his Google+ page.
News