Farm worker caught breaking health and safety rules by passer-by
News
•
Monday 08 April 2013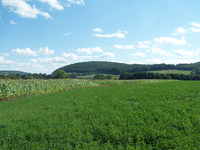 A farm manager from Hampshire has been prosecuted after he was caught on camera putting two of his workers at risk. He was using the grain bucket on a telehandler to lift them up onto the roof of a barn.
The practices were spotted and then photographed by a concerned passer-by, on 14th February 2012, and the pictures were then handed to the Health and Safety Executive.
This then resulted in the farmer getting a bill for almost £2,000.
Aldershot Magistrates' Court heard that the farmer had used the telehandler despite attending a safety day run by HSE less than a year before where a dummy had been dropped from a grain bucket attached to a forklift truck to demonstrate the risks.
The court then heard that although neither of the workers had been injured during the incident, that experience should have made him more aware of the risks of using unsuitable work platforms, which are well understood in the agriculture industry.
The farmer was then fined £330 and was then ordered to pay £1,757 in costs after admitting a breach of Section 7(a) of the Health and Safety at Work etc Act 1974.
HSE Inspector Craig Varian said: "Agriculture is one of the top three most dangerous sectors to work in and has a high fatality rate. Falls from height are a significant contributor to that and HSE will continue to prosecute companies and individuals who fall well below the expected standards."
HSE statistics for 2011/12 show there were 33 deaths in farming. There were 241 major injuries per 100,000 employees, just below the waste and recycling industry but above the construction sector.
News