Farm deaths in Britain on the decline
News
•
Thursday 31 October 2013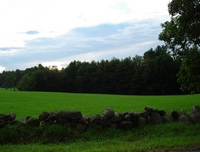 New statistics have been released which have revealed a drop in the number of fatal accidents on farms in the UK. These figures are a step in the right direction and show just how the industry-led initiatives can reduce risks to farm workers, according to the NFU.
The figures were revealed in the latest Health and Safety Executive and they have shown that work-related deaths in agriculture have fallen from 33 in 2011/12, to 29 in 2012/13. However, the number of reported major injuries has remained relatively unchanged at 375 compared to 376.
The Farm Safety Partnership, which is chaired by the NFU, is an industry-led initiative that is committed to improving agriculture's safety record, whilst helping reduce the number of deaths and serious injuries.
Adam Quinney, the chairman of the partnership and the Vice President of the NFU, spoke on the union's official website, saying: "We are actively working hard to try to improve the safety record of the industry and although this downward trend is welcome, more needs to be done.
"The NFU meets with its members regularly to discuss the importance of on-farm safety and we produce a number of safety related briefings and business guides to help farms consider the risks from their activities. The Farm Safety Partnership, hosted by the NFU, is a collective of farming organisations actively looking at new ways to help tackle health and safety issues in the industry.
"Simple measures can save lives, the Safe Stop campaign launched by the Farm Safety Partnership earlier this month urges people to ensure handbrakes are in working order on machinery, and that the safe stop procedure is followed (hand brake on, controls in neutral, engine off, keys out).
"Telling someone of what you are doing, taking a charged mobile phone in your pocket and knowing that a 999 call doesn't need signal from your provider can also save your life.
"The NFU, and partners, is committed to helping to reduce these accident statistics and believes that a good safety record is proof of a professional, modern industry."
News