Experts urge DEFRA to extend badger vaccination scheme over cull
News
•
Friday 22 August 2014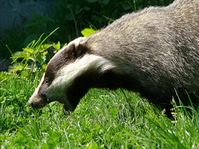 It is rumoured that this year's badger cull is to begin in the coming weeks and DEFRA has urged the Humane Society International to expand its limited Badger Edge Vaccination Funding Scheme to high-risk areas in order to offer farmers an alternative to culling.
However, the British Veterinary Association (BVA) has stated that it will support the second year of the pilot culls in England. This comes after the BVA called for improvements to humaneness and effectiveness in light of the Independent Expert Panel report on the first year.
A DEFRA spokesperson said: "Vaccinating healthy badgers could play an important role in preventing the spread of bovine TB to new areas of the country. That is why we will shortly be launching a vaccination scheme to help create a buffer zone to stop the disease spreading.
"However, vaccination doesn't cure infected badgers and stop them passing on TB. Overseas experience shows a comprehensive strategy that also includes cattle movement controls and continuing to cull badgers in areas where the disease is rife is likely to be most effective in moving to eradicate TB in England."
As soon as the cull starts up again in Somerset and Gloucestershire, shooters will be allowed, once again, to trap badgers for up to 16 hours before killing them. They will also be able to target 'free running' badgers at night, despite the Independent Expert Panel stating that free shooting was inhumane as well as ineffective.
It is reported that last autumn, over 1,800 badgers were slaughtered and nearly a quarter of them took more than five minutes to die.
The last set of culls were described as an "epic failure" by the Chair of Natural England's Scientific Advisory Committee.
The vast majority of independent scientists also agree that a cull can make no meaningful contribution to controlling TB in cattle.
The organisation suggested the use of badger vaccinations with the injectable BCG vaccine as a viable alternative. DEFRA is also promoting public funding for vaccination projects in the 'edge' area bordering England's most affected areas.
Speaking to Farming UK, Veterinarian and executive director of HSI UK, spoke of his delight that DEFRA has finally admitted that vaccinations are a useful tool to tackle bovine TB.
He did, however, state that this would be useless unless the ministers work hard to ensure that they promote this idea to the very farmers who they, and the NFU, have spent the last few years convincing that badger vaccination is a waste of time.
Click here to read more on the coming cull and badger vaccination.
News