Experts claim mega farms are the answer to keeping food prices down
News
•
Thursday 14 November 2013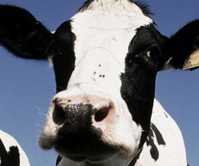 A group of influential farming experts have spoken out saying that Britain needs more "mega farms" in order to keep food down and improve animal welfare.
These mega farms would house hundreds or thousands of animals.
Toby Mottram, professor at the Royal Agricultural University, spoke at a conference organised by the Science Media Centre. He said that herds of more than 1,000 cows had "significant economies of scale".
He stated that this would help to reduce the costs while allowing the yields to rise, saying that "the industry is going to larger herds. Big may be better".
At present, there are only a small number of mega farms in the UK that keep large animals. For example, there are only 17 dairy herds in the UK that have over 1,000 cattle. However, there are many poultry farms where thousands of bids are kept together. There are also several controversial projects in planning, according to the Guardian.
Local planning officials in Derbyshire have, for example, already turned down one project to house up to 25,000 pigs in a single facility in Foston. However, these plans may still be resurrected.
The reason mega farms - which contain hundreds or thousands of animals, such as cows and pigs - are controversial, is because the animals can be kept indoors most of the time, and sometimes for all of their lives.
In a number of nations, including the US, these farms have been blamed for the routine use of antibiotics on a huge scale. This has been associated with causing harm to human health, as a resistance to powerful antibiotics can be passed on through the animals to humans.
Only 2% of the UK's dairy farms keep their cattle indoors all year round, which is extremely low, compared to as many as 90% in the US.
At the conference, the experts went on to restate their concerns over the use of antibiotics on UK farms. They stated that the rules in the UK are much more restrictive, and that in the case of dairy cows, the farmers would lose money if antibiotics were used often, as the milk produced for three days after the treatment finished would have to be thrown away.
Christine Nicol, the professor of animal welfare at the University of Bristol, went on to say that mega farms need not mean more intensive farming. She said: "Animals can be better cared for in larger farms. I have been on some terrible small farms, that I wouldn't care if they went out of business."
The chair of the Pig Veterinary Society, Annie Davis, was also optimistic about welfare standards in larger farms. She said that the animals in larger farms could enjoy more individual attention from vets. "Small farms are not going to pay for a specialised vet to come from 100 miles away," she said.
Sadly, thousands of dairy farms in the UK have closed down in recent years. There were over 56,000 dairy farmers in 1980, and last year there were only a reported 14,500.
However, thanks to the fact that milk yield per cow has increased, the amount of milk produced in the UK has declined only slightly.
Commenting on the issue of animals spending all day indoors, Tim Bridgestock, the policy director at the Royal Association of British Dairy Farmers, said that animals kept indoors for most of the time didn't suffer as a result.
He also stated that large animals in the UK often spend several months of the year indoors due to poor weather conditions.
Ms Nicol also went on to mention that the hens observed in larger farms with good facilities, as opposed to the outlawed battery cages of years gone by, were less inclined to peck each other and showed less signs of illness.
Mr Brigstocke did mention that many farmers were concerned about mega farms because they didn't believe that animals should be kept indoors at all times. And, Mr Mottram stated that mega farms in the UK should have access to a large area of pasture, so that the animals could be fed without the overuse of fertilisers that has been associated with large farms in other nations.
Helen Browning, the chief executive at the Soil Association, spoke out against mega farms, saying they were bad for animals and the environment. She also called them "unnecessary".
"The problems facing the pig and dairy industries will not be solved by supersizing production – this fails to deal with the root cause of the issue," she said.
"Instead we need to pay our farmers a fair price for food, while expecting the highest standards of care for our environment, animals and health in return. It really should not be necessary for a farmer to milk 1,000 cows in order to make a good living."
She added:"Large-scale indoor animal units such as this are common practice in the United States. Experience there has shown that they impact negatively on smaller, family farms, and can have poor environmental and animal health outcomes, as they produce much more manure than the land close by can use, and usually rely on high levels of antibiotics to control disease.
"We should be focusing instead on the development of productive mixed farming systems that integrate the needs of animals, crops, wildlife and people in a humane and environmentally responsible way."
Many of the objections to mega farms also centre on the smells associated with them and the visual impact, as well as animal welfare.
News