Experts calling for Britain to reduce imports and reduce exports
News
•
Friday 11 October 2013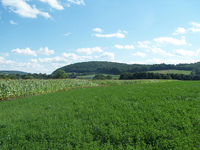 When speaking to the Conservative Party Conference last week, Owen Paterson said that he believes the UK needs to work towards reducing the 22% of food it imports each year, while seeking to boost exports.
The specialist lender Agricultural Mortgage Corporation PLC (AMC) has backed up this view. They stated that the calls for domestic food production to be boosted, along with the calls for food imports to be cut, should give UK farmers more confidence in the long-term future of their sector.
This confidence could also then help encourage farmers to look at ways in which they can develop strong businesses.
Mr Paterson also said that the exports of pork products to China alone had increased by almost 600% in the first six months of this year. This increase has lifted the UK into the top 10 biggest international food markets for the first time ever.
In order to promote British produce, Mr Paterson travelled to China with a group of producers at the beginning of the year.
The head of AMC, Jonathan Allright, told the NFU official website: "The global demand for food is obvious and will increase further as population grows. This creates real opportunities for UK farmers - whether meeting a rising demand on the domestic market or, as the figures suggest, for the export market.
"Advances in technology, together with improved productivity and efficiency at a farm enterprise level, will be key to meeting the growing demand for high quality affordable food.
"Continuing investment by UK farmers will allow them to be well placed to take advantage of growing markets in the future."
News