Ex anti-GM campaigner receives hate mail after supporting GM crops at the Oxford Farming Conference
News
•
Tuesday 08 January 2013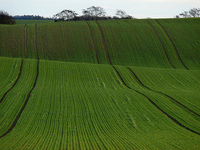 This year's Oxford Farming Conference has sparked plenty of controversy, mainly from Owen Paterson the DEFRA secretary, but it seems it isn't over.
The award-winning environmentalist Mark Lynas says that since he spoke at the conference in favour of GM crops, he has been receiving hate mail.
Lynas, who used to spend years tearing up GM crops and is now in favour of the technology, said that he has received abusive messages after his talk at the conference.
Speaking to delegates Lynas said that he now regrets starting the anti-GM crop movement in the 90s in which he demonised the technology that he now believes can benefit the environment.
However, these comments have infuriated GM opponents.
Speaking at the conference Lynas said that the GM debate is over stating that farmers should be allowed to grow GM crops, which could help in feeding the world's poor.
"We don't need to continue to discuss it. You are more likely to get hit by an asteroid than to get hurt by GM food."
Since the speech was delivered on Thursday (3 January) it has gone on to be downloaded over 130,000 times.
One Twitter message has managed to offend a large proportion of people with its insensitive nature. It was sent by the prominent anti-GM campaigner Vandana Shiva. It said: "Saying farmers should be free to grow GMOs, which can contaminate organic farms, is like saying rapists should have freedom to rape."
Mr Lynas replied: "Comparing me with rapists is disgusting and offensive. You are a reactionary fraud and an enemy of the poor."
Farmers Weekly stated that Mr Lynas said he refused to be intimidated by the emails he had received. Supportive messages far outnumbered those criticising his conversion to GM crops, he added.
But he warned that he was prepared to publish some of the hate mail online - including the names and computer addresses of those who sent it.
"I don't want to play the victim here - I couldn't care less about the nutters really."
He added: "To everyone sending me hate mail: I may post your messages, emails and IPs in the public domain. Just so you know."
Lynas did state on Twitter that he has had plenty of support that has outweighed the hate mail.
What are your opinions of the GM crop debate?
News