Ever heard of 'black garlic'? One innovative farmer's ticket to the top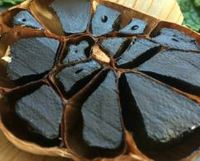 A Dorset farmer chanced upon an ancient method for curing garlic and is now the country's sole producer of the so called 'black garlic'.
Mark Botwright came upon the 4,000-year-old Korean recipe for black garlic when he was looking for a way to preserve some of the 900,000 bulbs of garlic that he grows on his farm.
Mr Botwright wanted to ensure that his produce could be eaten all year round, and he now supplies his special garlic to some of the UK's top restaurants.
When looking for a method of preserving garlic, he came upon this special and rare method, which sees the garlic exposed to heat and moisture for over a month.
He left a batch of the garlic in the bottom of his Aga at home and had a "eureka moment" when he tasted and smelt his fantastic culinary creation.
According to The Telegraph, this process, which is being kept closely guarded, kickstarts a chemical reaction between the sugars and the amino acids in the garlic, which transforms the regular bulbs into a sweet, sticky black version.
These incredibly rare and delightful cloves have the texture of dried apricot and taste of balsamic vinegar. They are also reported to be so soft that they can be spread with a knife.
According to the paper, Mr Botwright has now built his own special heating room at his 13-acre farm in Bridport, Dorset, meaning he can now produce up to 2,500 bulbs every 40 days.
It took the farmer 18 months to perfect the secret recipe as he experimented with the temperatures and the humidity required. However, his product has been such a hit that he now supplies some of Britain's top restaurants including The Ivy and The Ritz.
And, as if that wasn't good enough, he has also been given the seal of approval by a host of leading chefs including Mark Hix, Nigella Lawson and Yottam Ottelenghi.
Mr Botwright's black garlic costs £3.50 per bulb and has a shelf life of over a year, making it decent value for money.
Speaking to The Telegraph, he said: "I wanted to find a way of producing a garlic product we could market all year round, plus I'm constantly searching for ways of preserving garlic without adding anything to it.
"After weeks of looking for ancient preserving methods I stumbled across a 4,000-year-old Korean recipe online titled 'black garlic'.
After getting the method translated to English (it was initially all written in Korean) he decided to give it a go and put a load of bulbs in an old biscuit tin before putting the tin in the Aga.
After a month he removed the tin and the cloves had turned into a sweet, jelly-like consistency that tasted of refined balsamic vinegar.
Mr Botwright's garlic has been extremely popular and he claims that it is even better than normal garlic.
This just goes to show how a bit of innovation from farmers is all that's required to find the perfect niche in the market!
News