ENTER OUR SPRING PHOTO COMPETITION!
News
•
Tuesday 25 March 2014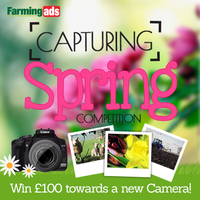 Wow, it's spring already! Can you believe it? Let's hope that this means the wind, rain and flooding are now behind us. Anyway, in order to celebrate the arrival of spring - the best season for sure - we are giving away £100 towards a new camera in our Capturing Spring photo competition.
That's right, our favourite competition of the year is back!
All you need to do is take a photo of what you feel best captures the British springtime. Then, you simply visit our website, upload the photo on our competition page and enter your details!
Your photo will then be added to the list on the site and voting will commence. Then, come the end of the competition, when it closes on the 18th April 2014, the photo with the most votes will be crowned our champion!
We had plenty of fantastic entries last year, so why not get your camera out, get outdoors and get snapping?
Don't forget to tell your friends so they can vote for your picture. Click here to see all of the entries and vote for your favourite!
*Winning entries must be based in the UK
News