EID deal handed to SouthWestern
News
•
Monday 29 April 2013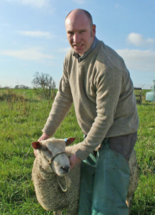 The Department for Environment, Food and Rural Affairs - Defra - has chosen SouthWestern Business Process Services (UK) Limited to deliver an electronic movement reporting system and accompanying database for sheep, goats, and deer in England.
SouthWestern had won the contract after a re-run of the tendering process and the new EID database should be operational by April 2014.
Charles Sercombe, the NFU livestock board chairman (pictured), said: "While this process has taken longer than the industry initially envisaged we welcome today's announcement that the tender has finally been awarded.
"SouthWestern Business Process Services (UK) Limited is part of a larger company which appears to have a strong track record in dealing with databases and traceability systems. We will be in touch with them to see how industry will be involved in the operational governance of any system and their anticipated delivery timetables.
"The NFU has always maintained that there should be no additional costs to farmers for movement reporting apart from the price of a postage stamp and we will continue to work with all parties to achieve this."
Picture courtesy of the NFU.
News