Drunken brawling pig discovered a month later after being killed by passing car
News
•
Wednesday 09 October 2013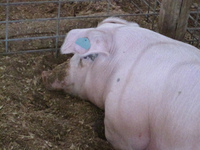 A pig (not pictured) that shot to fame after getting drunk on stolen beer and losing a fight with a sober cow has sadly died weeks later in a car accident.
The boozy feral pig went missing after causing chaos at a campsite in Australia last month, but has been discovered dead after being hit by a passing vehicle. The authorities didn't say whether the animal, who has been nicknamed 'Swino', had been drinking prior to the accident.
The local authorities did, however, state that the dead pig was definitely Swino, as he was easily recognisable by the distinctive marking on the back of his ears.
Last month Swino was reported to have stolen 18 cans of beer from a campsite and things turned nasty when the booze took effect.
The drunken pig then stumbled around the campsite and havoc ensued. He started and subsequently lost a drunken brawl with a cow, and then trashed some tents and bins in search of food.
After his booze binge Swino then staggered to a tree and collapsed in a drunken heap. By the morning he was gone, and the local authorities began searching for him.
After the incident at the campsite, one camper, called Merida, spoke to ABC News saying: "It was in the middle of the night and it was these people camping opposite us and they heard this crunching of the can and they got their torch out and shone it on the pig and there he was scrunching away at their cans."
She added: "Then he went and raided their rubbish that they had sort of covered over with a bin as well…And then there was some other people camped right on the river and they saw him running around their vehicle being chased by a cow.
Miranda added: "It was going around and around and then it went into the river and swam across to the middle of the river… The people that were camped on the river went across and crept up on it and it was hiding and sleeping under a big log right on the edge of the water."
The search for Swino has now ended after he was discovered dead on the side of the road.
News