Dorset family farm devastated by bovine TB
News
•
Wednesday 09 April 2014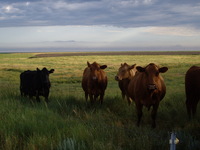 A Dorset dairy farmer is facing the sad possibility of losing nearly a quarter of his closed dairy herd after the animals tested positive for bovine TB.
Paul Gould, who owns the farm was quite obviously deeply saddened and angered by the news.
Speaking to the NFU, he said: "I've had 36 reactors, including 31 of my in-calf heifer replacements which were due to calve in this year. Let's be clear about this, this means that pregnant cows will be sent for slaughter."
Mr Gould's cows were tested last June and they came back completely clear. His small family farm only has 160 British Friesian cows and they have been a closed herd for the last 60 years, meaning that all of the cattle were born and bred on the farm.
"I don't want to compromise that by bringing any animals in," he continued.
"We have badger setts on the farm and as far as I'm concerned there's only one source of infection that this could have come from.
"Losing all these cows in one go is going to have a serious impact on the business. It means we'll have no replacements at all this year and we'll lose nearly a quarter of the herd. It will probably take us three years or more just to get back to where we are now. It's devastating and we don't know what our next TB test in 60 days will bring."
Meurig Raymond, the president of the NFU, spoke about Paul's issues saying: "The terrible situation Paul finds himself in reinforces the need for action to be taken on all fronts to tackle bovine TB.
"He has done everything he possibly can to stop this disease infecting his herd and yet is still facing losing nearly a quarter of his cows because of the infected badgers living in or around the farm.
"While we're confident that the pilot culls will deliver a reduction in bovine TB in Somerset and Gloucestershire, farmers in other parts of the country where the disease is rife, like Dorset, face the despair of continually fighting a losing battle to control it without any means of preventing badgers continually reinfecting their cattle.
"There is little point in increasing regulations on farmers when the disease isn't being tackled in wildlife. Until we do that reinfection will continue to occur and farmers like Paul will be powerless to protect their businesses. Controlling the spread of the disease is absolutely essential and culling badgers where bovine TB is endemic must play a role in any strategy to deal it.
"The government's TB eradication strategy highlights the need to control the badger population in areas where TB is rife. The NFU will now be looking at the best ways of rolling out this policy to other areas where farms and farmers are having to deal with the scourge of TB on their farms."
Picture courtesy of
C.K Hartman
via Flickr Creative Commons.
Adam Rowden is a writer for Farming Ads view his
Google
+ page.
News