DEFRA Secretary on collision course with farming unions
News
•
Friday 04 January 2013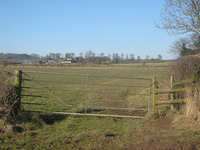 Owen Paterson, the DEFRA Secretary, is in line to incur the wrath of the UK farming unions after taking a hard line stance on the Common Agricultural Policy (CAP).
Paterson has been accused of following a farming policy that would end up leaving many farmers in the UK bankrupt.
He spoke at the Oxford Farming Conference yesterday (04/01/13) where he admitted that "we might not get there this time" and it was also clear that in this round, which will run until 2020, Pillar 1 payments would continue.
He also said that he would "like decisions on which food to produce to be left to the market, so that the farmers alone decide which crops to grow and which animals to raise according to demand".
Paterson was accused, by the Scottish rural affairs secretary Richard Lochhead, of ignoring the views of Scotland and the devolved administrations by calling for farm payments to cease.
Lochhead accused Paterson of making the DEFRA policy the UK policy without agreeing it with the other agricultural ministers within the UK.
Speaking to Farmers Weekly, Richard Lochhead criticised Paterson's view by saying that the removal of direct payments for farm businesses would lead to bankruptcy for many and that it would also "undermine Scotland's ability to produce food and safeguard rural communities".
"Owen Paterson's speech was simply a speech for the golden Home Counties, not a speech for Scotland." He told Farmers Weekly.
Lochhead's comments have arrived a few days after the deputy minister for agriculture for Wales, Alun Davies, also criticised the government's approach to CAP reform as a "major disappointment".
Alun Davies is reported to have made it clear to the government that its approach was not in keeping with the Welsh viewpoint or the perspective shared outside of Westminster.
"The cuts that the UK government seeks in both CAP and in structural funds will not help support Welsh agriculture and will not stimulate the wider economy of rural Wales." Mr Davies told Farmers Weekly.
Peter Kendall the president of the NFU was also extremely critical of Paterson's stance saying that is was ideologically-driven.
News