DEFRA publishes new farming inspections guide
News
•
Thursday 22 August 2013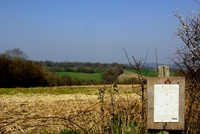 DEFRA has published a new guide relating to farm inspections after recommendations made by the Farming Regulation Task Force report.
The task force report took into account that many farmers consider the inspections to be "time-consuming and unnecessary".
The 42-page DEFRA guide aims to explain to farmers why and how they are being inspected.
A spokeswoman for DEFRA said that "Farm inspections help to uphold Britain's global reputation for high animal welfare standards, environmental protection and food safety.
"We want to make sure that they can be carried out effectively with as little burden as possible, and have worked with farmers to produce a new guide that makes clear exactly what they should expect. This is part of our work to implement the recommendations of the Farming Regulation Task Force."
Basically DEFRA want to try and make farming regulations and policies "more consistent, effective and transparent". The report has been developed in partnership with a number of farmers that have shaped the content and style of the report.
News