Defra Minister praises The Voluntary Initiative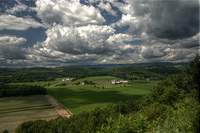 Lord de Mauley, the Defra Minister, has praised The Voluntary Initiative for the way it has established partnerships which encourage more farmers to use pesticides responsibly.
The minister made his comments while visiting the farm of the VI chairman, Richard Butler, in Wiltshire.
Speaking on the NFU official website he said: "The VI has been extremely successful at getting farmers, advisers and spray operators to ensure pesticides are used responsibly.
"The initiative has helped the UK stay ahead of the game compared with much of Europe and it's good to see that farmers are so committed to producing crops without compromising the protection of health and the environment."
Richard Butler said: "Farmers are being bombarded by a vast array of well- meaning advice and information from a variety of sources. But if this advice is to be followed, we need to make sure that it is clear, consistent and co-ordinated. That's why it is so important to farm partnerships with the Campaign for the Farmed Environment and Catchment Sensitive Farming."
The Voluntary Initiative was set up in 2001 and is a programme of measures that promote responsible pesticide use. The initiative successfully established the National Sprayer Testing Scheme, the national Register of Sprayer Operators, the use of Crop Protection Management Plans and it also trialled and promoted a range of water protection measures.
For the year ending March 31 2012 there were 20,755 members of NRoSO, and over 14,895 sprayer tests were conducted. The scheme had a coverage of 90.6 per cent of the sprayed area.
News