December milk production at UK 20 year high
News
•
Thursday 16 January 2014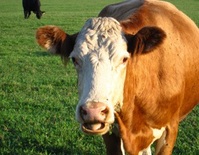 Dairy farmers in the UK recorded the highest production figures for December for nearly 20 years last month. This is according to the Rural Payments Agency.
The RPA's latest Wholesale Milk Production Survey showed that milk production in the UK stood at 1.15 billion litres in December.
These figures show an increase of 83.8 million litres (8 per cent) on November, and 111.5 million litres more than the figure recorded for December 2012. During December 2012, farmers in the UK were struggling with the extremely challenging production conditions during what was a long period of poor weather.
These figures also represent the highest level of milk production that we have seen in the UK since December 1994/95, which was a period when the UK regularly reached its national quota and milk quota levies were common.
According to the Farmers Guardian, the cumulative production for the first 9 months of the quota year now stands at 10.151bn litres, with a butterfat average of 4 per cent, an increase of 3.3 per cent on last year's equivalent figure of 9,825.3 million litres.
The NFU commented on the figures, stating that they showed that milk producers were responding positively to the higher prices and growing global demand.
According to Townsend Chartered Surveyors, if production continues to increase month on month, over the next three months, the UK as a whole could come close to hitting its national production quota limit for the first time in 10 years.
2015 will see the end of milk quotas, however, the UK can still be subject to a levy if it goes over quota. Townsend said that the current situation may, therefore, be 'uncomfortable for those producers who have been regularly producing over their quota (without any at all) over the last few years'.
The company added that because 'we have not reached our national quota since 2003/4, milk purchasers have for some time now not always insisted their producers hold enough quota to cover their production, and have been happy to pay for collections over and above quota held.'
Rob Newbery, the NFU cheif dairy adviser, said that it is 'yet to be seen' whether the UK is approaching its quota ceiling.
Speaking to the Farmers Guardian, he said: "However what this latest news from the RPA clearly demonstrates, is the positive reaction of dairy farmers to strong market prices and the prospect of growing market demand.
"It is vitally important that the best balance of product export and domestic use by processors is maintained through 2014, so that dairy farmers enthusiasm and determination to grow the industry, isn't dampened by short term, domestic market over-supply this spring.
"Dairy farmers are reacting positively to the challenge of a growing global market and a future without quotas. Its time for the whole industry to pull together to achieve growth, as set out in the NFUs 'compete to grow' vision and the growth strategy, currently being developed by the dairy industry, leading the way."
News