David Cameron visits Wyke Farms biogas plant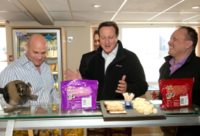 The UK's largest independent cheese producer, Wyke Farms, has been recognised alongside Marks & Spencer and Sainsbury's for its renewable energy project.
The farm has also been shortlisted in the Company of the Year category for the BusinessGreen Leaders Award 2013 and was even paid a visit by the Prime Minister David Cameron.
The Prime Minister visited the Wyke Farms in Bruton, Somerset at the end of April to take a look at its new biogas plant.
Wyke Farms is aiming to become a 100% sustainable working farm, which sources all of its electricity and gas from both solar and biogas, which have been generated from the farm and dairy waste.
The main goal at Wyke Farm is to become one of the first national food brands, which is completely self-sufficient in green energy.
The BusinessGreen Leaders Awards are in place to celebrate the leading businesses and individuals from across the green economy and they also highlight how these pioneers are blazing a path for others to follow.
With over 150 years of family farming experience Wyke Farms' cheese and butter is made with the milk from their cows which graze on their lush pastures of the Mendip Hills in the centre of the Cheddar making region in Somerset.
The Wyke Farms products are available nationwide and can be found in Asda, Co-op, Makro, Sainsbury's Tesco and Waitrose.
Picture courtesy of the NFU.
News