Dairy production cost unlikely to fall in 2013
News
•
Wednesday 09 January 2013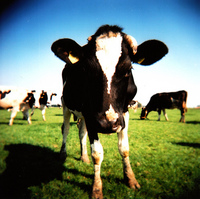 The Dairy Group has warned farmers in the United Kingdom that the cost of dairy production is unlikely to drop in 2013.
They stated that it won't be dropping from 33p per litre due to the hangover that farmers are facing in the aftermath of 2012.
Speaking to Farmers Weekly, The Dairy Group's managing director, Ian Powell said that there are too many problems still to be sorted from 2012. He went on to say that if we have a similar rotten season this year, then the issue will be compounded.
"Most farmers will be very short on forage by the end of the winter. They will be buffer feeding come the summer period and there are going to be extra costs in replenishing stocks." He continued.
Nick Holt-Martyn, the principle consultant for The Dairy Group also spoke to Farmers Weekly saying: "Having chosen cost of production as the main price-setting marker, retailers and processors are now learning the effects of such a difficult summer with production costs soaring as feed costs feed into farm accounts."
They have also stated that as a result of rising cost, the COP-driven farmgate milk prices look likely to rise in 2013. Holt-Martyn did go on to suggest that the industry needs to develop a standard procedure which could be used to calculate dairy production costs.
He added that production cost measurements that discount single farm payments or environmental income are underestimating the actual cost of producing the product as to measurements that don't account for all the resources that are used to make the milk.
"With so many contracts becoming linked to COP an agreed standard is urgently required. Modifications thereafter for a particular milk price agreement are possible, but this must not be confused with the actual cost of production." He added.
The Dairy Group mentioned that global supply is looking stable, which indicates that there will be little or no price movement over the next six months. This, therefore, means that the UK prices would be determined by domestic supplies. These, coupled with high COP, should leave average farmgate milk prices sitting above 30p per litre by April.
News