Dairy farms in Ireland need far more staff to hit 2020 goal
News
•
Wednesday 23 January 2013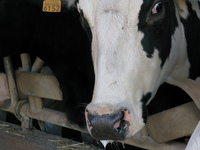 The Irish Independent reported yesterday (22/01/2013) that Irish dairy farms will require an additional four to five thousand trained staff in order to achieve the goals that were set out in Food Harvest 2020.
Michael Murphy, a well-known Cork dairy farmer, spoke to the paper and said that there is a large skills shortage in the dairy sector which needs addressing.
He went on to say that between 2,000 and 3,000 people were currently employed on dairy farms. However, he maintained that if the target of a 50pc growth in milk production by the end of the decade was to be realised, then that number would need to rise to between six and seven thousand.
Speaking at the Positive Farmers Conference in Limerick, Mr Murphy warned that suitable trained workers were not "on the shelf".
While he accepted that the new Teagasc dairy management course in Clonakilty would deliver the right calibre of staff, he warned there were not enough "people in the pipeline".
Read the whole story here.
News