Dairy farmers campaign to raise awareness about how the public can help
News
•
Friday 07 November 2014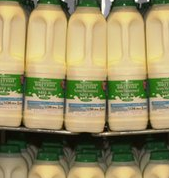 Dairy farmers are all set to be heading out onto supermarket forecourts in order to encourage consumers to support the British industry in the near future.
The initiative has been set up by Farmers For Action (FFA) and DairyCo, who published a flyer for farmers to hand out to shoppers.
This flyer outlines the recent large drop in milk prices and shows them how they can help farmers by urging them to challenge retailers on how they support British farmers.
It points out that consumers should question retailers on their sourcing policies whilst also spending time to seek out the Red Tractor on products including cheese, liquid milk, butter and yoghurt.
DairyCo's head of marketing and communications, Amanda Ball, spoke to Farmers Guardian saying that the aim of the flyers was to create something 'practical and positive' that can be used by both members of the public and farmers in order to support the industry.
She also said that DairyCo were looking for ways to respond to consumer and media interest in the milk market, when David Handley, the FFA chairman contacted her about producing a flyer.
The FFA supporters were able to use the flyers to explain to consumers what the FFA was doing and why.
As well as the leaflets, farmers will also receive striking black and white wristbands to wear.
Other ideas have been suggested for farmers to raise awareness when they travel to the supermarkets including bringing along cows and 'other gimmicks'.
Farmers took a break this week after a protest at Adams Foods in Staffordshire and a Morrisons depot in Cheshire, but Mr Handley said that protests would continue alongside the 'front of house' campaign.
He said: "We have got no choice, to be honest, farmers still have the stomach for protests".
He justified these protests by saying that the global market downturn alone couldn't be held accountable for the 7-9ppl cuts that dairy farmers have suffered.
News