Dairy Coalition meeting emphasises ten point plan
News
•
Thursday 25 April 2013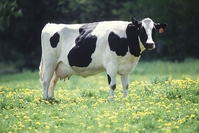 Members of the Dairy Coalition met on Tuesday and agreed that the main commitment of the group is to work together to achieve common goals for the whole dairy industry.
The statement came after Farmers For Action withdrew its membership from the coalition and agreed, instead, to work separately with all of the organisations that are within the coalition.
Mansel Raymond, the NFU dairy board chairman, said: "The Dairy Coalition would like to thank Farmers for Action for all their help and support over the past nine months. We remain a strong coalition dedicated to securing a viable and profitable future for the British dairy industry. The coalition will continue working together to progress the common goals outlined under our original ten point plan.
"The aims and objectives of the Dairy Coalition remain the same. We need to get the UK dairy market working so that UK milk prices are linked to the key market indicators (AMPE/MCVE). This is essential for UK producers who need to receive milk price rises that do not lag behind the rest of the market.
"We are pleased with the work so far on the Voluntary Code of Practice and more is being done to ensure the Code is taken up by those dairy processors that have so far not committed on behalf of their suppliers. This includes working with Arla AFMP suppliers (Arla Foods Milk Partnership) to make sure their suppliers are given the choice between achieving full cooperative member status or moving onto a direct supply contract.
"Regarding the latest situation within the cheese market, the Dairy Coalition will continue to put pressure on retailers, discounters, and the food service sector to be more transparent on how they source and pay for cheese so that British dairy farmers producing milk for cheese receive a fair profit. We are also calling for more clear and accurate labelling of British cheese so that consumers can make an informed choice and buy British."
News