Cut grass smell makes milk healthier
News
•
Monday 02 December 2013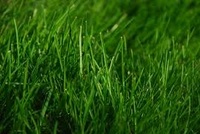 Everyone loves that smell of freshly cut grass. It is a smell that can put a smile on most people's faces, and makes your day go that little bit smoother.
Well, Scientists at Aberystwyth University, have recently discovered that the molecules that give the cut grass this smell, also kill off bacteria in the gut of cows, which converts omega-3 fats into saturated fats.
Whole milk contains around four percent fat, which is a mixture of saturated and unsaturated fats. Some of these are omega-3 fatty acids, which are believed to have a number of health benefits.
When it comes to the ratio of omega-3 to saturated fats in milk, it varies throughout the year and the proportions are less healthy during the winter.
Dr Sharon Huws, Coleg Cymraeg lecturer in Animal Science at Aberystwyth University led the research, said: "We've known for a while that milk contains a greater proportion of the healthy omega-3 fats in the summer than in the winter, and now we know it's probably down to the antimicrobial effects of the green odour products from grass.
"Obviously cows can't be outside all year round but we could, for example, supplement their winter feed with one or more of these products.
"Of course, it's not just milk that would be healthier with the supplemented feed, it would also be all the various products produced from whole milk - butter, cheese, yoghurts, milkshakes, and more."
BBSRC fund the research carried out at the Institute of Biological, Environmental and Rural Sciences (IBERS) at Aberystwyth University. The research is ongoing with funding from the Welsh Government with links to industrial partners Waitrose, DairyCrest, Wynnstay and Volac.
News