Cow flatulence explosion nearly blows barn roof off
News
•
Wednesday 29 January 2014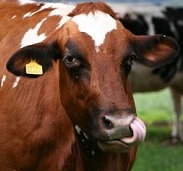 A herd of dairy cows in a barn in central Germany nearly took the roof off when methane released by the animals caused an explosion.
The flatulent cows had produced a large quantity of the gas, which became ignited by a static electric charge causing a spurt of flame.
The roof was damaged in the incident, but only one of the flatulent cows was hurt.
The police in Hesse, said that 90 cows are kept in the shed at a farm in Rasdorf, and that it wasn't clear as to why the quantities of methane had built up.
A Portsmouth University economist has revealed how a herd of cows can produce more greenhouse gas in a year than a family car would produce in driving 3,000 miles.
Dr Andy Thorpe then went on to say that 200 cows can expel an annual amount of methane that is equivalent to the carbon dioxide emissions of a car burning 21,400 litres of petrol.
Luckily no one was hurt in this giant flatulent explosion and the local emergency services arrived on the scene and took gas readings to test for the risk of further blasts.
News