Cow falls 250ft and survives to give birth
News
•
Wednesday 03 July 2013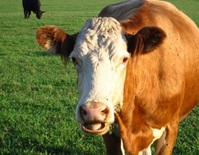 Last Thursday a pregnant cow fell down a 250ft hill on a Devon farm, however, the animal survived and went on to give birth to a healthy calf the next day.
According to The Telegraph, the cow pushed through a wire fence and then fell down a steep hillside at Colcombe, near Tiverton.
She was discovered at the bottom of the hill, however, she had to be left there overnight until a digger could rescue her in the morning.
Andrew Biggs is the vet who had to treat the cow overnight for milk fever, which is a potentially fatal disease that was unconnected to her fall.
Farmers took six hours to haul the half-ton cow back up to safety and they did so using a digger and a makeshift sled.
Speaking to The Telegraph, Mr Biggs said: "She was so far down the hill we couldn't even see her.
"We thought the chances of getting her out alive and in one piece were slim. A fit young bull would have struggled to get up that steep slope."
Aubrey and Barbara Chamberlain are the owners of the cow, and they have run the dairy farm for 27 years. They hailed the incident as a "miracle".
"In the end, we went across the side of the slope and got a digger and dug down to her," Mrs Chamberlain said.
One of the individuals who helped rescue the cow was Mr Chamberlain's nephew, Stuart Chamberlain, 31. He worked hard all day with the digger to build a makeshift sledge, which was eventually used to haul the cow back up the hill to safety.
Mrs Chamberlain continued: "She stayed remarkably calm while she was down there until she started to slip on the sledge a bit.
"But it's unbelievable - a real miracle. She got stuck behind trees and scratched herself but she's fine now."
A day after her ordeal the heifer gave birth to twin calves. One died but the other survived.
"The heifer is doing fine now and both mother and calf are enjoying life," Mrs Chamberlain added.
News