Countryfile presenter launches UK farm charity in Uganda
News
•
Thursday 12 September 2013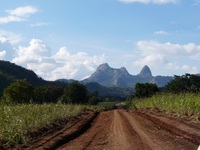 Ellie Harrison, the presenter of BBC's Countryfile, has become the figurehead of a UK farming charity that supports vulnerable rural communities in Uganda.
She was recently confirmed as the Patron to Farmers Overseas Action Group (FOAG) and afterwards the she said that she was aiming to encourage Britain's rural communities to support their hard-pressed counterparts in Uganda.
The first act of her new role, saw Ellie launch a drive to raise money to help bring food security to the village of Namalu, which is in northern Uganda. Namalu has been ravaged by droughts and floods in recent years and is in desperate need of help.
Ellie spoke to Farmers Guardian about her pride in her new role. She also said that she was hoping others would follow her in supporting the charity.
"Today we are launching a campaign to raise funds which will be used to finance food storage silos in the village of Namalu, which sits in one of the most vulnerable areas of northern Africa," she said.
"It's an achievable goal and an investment in food security that will last."
The chairman of FOAG, Iain Patton, said that he was delighted to have Ellie on board and he also praised the way that she has been a "brilliant ambassador for the UK countryside" throughout her career.
Also speaking to Farmers Guardian he said: "Every year the farmers in Namalu do everything they can, often in extreme weather conditions, to grow enough food to feed their families and, with luck, sell some surplus for a profit.
"But because there is virtually no adequate storage for their crops everything is consumed and sold months before the next harvest leading to horrific food shortages and massive food price inflation.
"Our scheme provides food storage silos to keep the food local so the community doesn't run short and prices remain constant all year round."
If you want to find out more about the Namalu Food Security Scheme then you should visit the FOAG website today.
News