Could urban farms - over 100 stories high - be the future of farming?
News
•
Monday 27 January 2014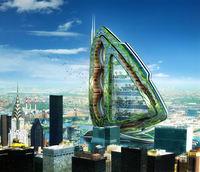 A Belgian architect called Vincent Callebaut has designed a 132 floor 'urban farm', which he believes could be the answer to a healthier and happier future for people living in cities.
By 2050, it is estimated that around 6 billion people will live in cities around the world, and with these increasing numbers of people comes an increased demand for food, water and energy sources.
So, Callebaut has designed his urban farm that would allow cities to be self sufficient. His design would contain orchards, dairy farms, rice paddies, a number of gardens and it would also be able to heat and cool itself, whilst also capturing rainwater and circulating domestic waste as plant food.
It is still yet to be seen as to whether anything will come of this imaginative design, however, Callebaut is confident that the future will see cities becoming far more green and luscious.
Speaking to AFP, he said: "The city of tomorrow will be dense, green and connected. The goal is to bring agriculture and nature back into the urban core so that by 2050... we have green, sustainable cities where humans live in balance with their environment."
He went on to state that each building must, in the end, become a "self sufficient, mini-power station".
People continue to flock towards the cities, which has made the quest for sustainable urban living more important than ever before. These growing cities are encroaching onto valuable rural land, which in turn leads to the disappearance of sparse natural resources.
Callebaut is now showing off his project called "Dragonfly" which he has designed as a massive, twin-towered "vertical farm" on New York's Roosevelt Island.
The structure contains areas for the production of meat, dairy and eggs as well as orchards, meadows and rice fields, along with offices and flats, gardens and public recreation spaces.
It also has a pair of "wings" which make it resemble the dragonfly that it is named after. And, these "wings" are also able to trap hot air, which can be used for heating in the winter. Natural ventilation and transpiration from the abundant plant growth will help achieve cooling in the warmer months.
The exterior of the building will have plants growing on it which will filter rainwater. This water will be captured and mixed with liquid waste from the towers that will be treated organically and used as fertiliser.
"They made fun of me. They said I created a piece of science fiction," Callebaut says of his detractors.
But as awareness has grown of the plight of our planet, overpopulation and climate change, his ideas have gained traction, and the Dragonfly design has been exhibited at an international fair in China.
Emilia Plotka, a sustainability expert at the Royal Institute of Royal Architects, told AFP: "Instead of majestically tall bionic towers plonked in riverbeds, vertical farms have been rather more modestly integrated into existing buildings, derelict industrial sites and floating barges."
One example is the Pasona Urban Farm - a nine-storey office building in Tokyo that allows employees to grow their own food in specially reserved green spaces at work.
"Whilst the buy-in may not be as noticeable at the moment, it certainly is widespread and growing," said Plotka of the "vertical farm" movement.
"I suspect most other new vertical farms will remain hidden in disused urban spaces or existing business and domestic blocks, which is not bad at all as they will use fewer resources to be set up and enhance their surrounding environments and communities."
News