Could this be the end of British farming?
News
•
Thursday 12 June 2014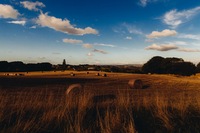 According to the Country Land and Business Association President Henry Robinson, a new £500m farm tax proposal by the Labour Party would mean the end of farming as we know it.
The proposed taxes would be introduced by scrapping the exemption on business rates that has applied to agricultural land since 1929.
The conservatives have, as expected, come out and bashed the proposal saying that it would increase rural unemployment and force up the cost of a weekly shop.
However, the Labour Party have claimed that it was not party policy with a Labour spokesperson saying: "This is not a Labour Party report or Labour Party policy. A future Labour government would cut business rates for small businesses."
The tax plan was contained within a report that was commissioned by Ed Miliband and put together by Bill Grimsey who is the former boss of Wickes DIY stores. The report was aimed at reviving struggling town centres.
Henry Robinson spoke out when talking to Farming UK saying: "If this report turns out to be true, it would mean the end of British agriculture as we know it, the abandonment of much of the countryside, and less money to spend on the environment.
"It would especially hit small and tenanted farms who simply do not have the resources to meet this additional demand.
He went on to claim that the fact that most British farms are barely viable as they are, the requirement to pay business rates could tip most of them over the edge.
"Farmers will have to give up their businesses and it is unlikely there will be anyone willing to take them over," He said.
"This could result in a move to more industrial scale farming on a scale that would be completely unacceptable to the industry and to the British public."
Adam Rowden is a writer for Farming Ads view his
Google
+ page.
News