Company fined £12,500 after worker was injured in pig shed fall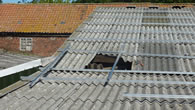 A solar panel fitting company has been left with a £12,500 bill after an employee fell four metres through the fragile roof of a pig shed at a farm in East Yorkshire.
The worker, who chose not to be named, had been employed in the role for just two weeks and had no experience in solar panel installation. he was crawling on all fours cutting rails for the panels when he heard a crack the roof gave way.
He landed on his hands and knees on a soft layer of animal waste on the concrete below and though he managed to escape severe injury, he did suffer a seriously fractured elbow and bruised both of his legs.
The firm was fined a total of £6,000 and was also ordered to pay £6,585 in costs after admitting two breaches of the Work at Height Regulations 2005.
York Magistrates' Court was told that three days earlier, the company involved had taken measurements and started the installation.
On the morning of the accident, the owner of the farm spoke to the director of the firm on site, as he was unhappy with the way they had been working on the shed roof. He warned that the two roofs were fragile and that work should not be undertaken without the use of crawl boards, which he had made available.
HSE found no action was taken as a result of this advice and both the director and the inexperienced employee carried on working unsafely.
The director then left the site and instructed the man in question to level the rail already on the roof and chop further rails for the panels.
The injured man could have been killed, said HSE Inspector Andy Denison.
He added: "They (the company) failed to assess the risks before this job started and therefore failed to plan it properly and ensure it was carried out safely. They then chose to ignore the farmer's warnings and use the crawlboards he had left for their use.
"The company left an inexperienced worker alone to work on the roof without suitable safety measures in place, having told him to walk on the purlins – which is extremely dangerous.
"Falls through fragile roofs and rooflights account for some 22 per cent of falls from height in the construction industry – or seven deaths and around 300 major injuries a year."
Picture courtesy of the
NFU
News