Cold weather on its way as farmers are warned to take great care
News
•
Monday 08 December 2014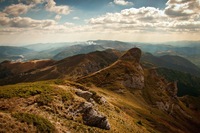 Weather forecasts for this week have shown that cold and unsettled weather will continue throughout the UK, with some possible snow showers in some areas.
The winter is really starting to kick in, especially over the high ground of Scotland, Northern England and Northern Ireland.
Dr Simon Keeling, the weather expert for Farmers Guardian, said that temperatures will lift a little, with the south being rather dry. However, he did go on to add that the north is likely to be windier, with Scotland seeing some rain.
But when it comes to next week, the cold is going to be more prevalent. Dr Keeling said: "As for next week there are a few signs of a possible cold outbreaks in the middle of the week. This could bring some snow showers further south through almost all parts of the country, and bring cooler days.
"For farmers it's important to note that wind chill may become significant, with Scotland and northern England most prone to this."
As the cold weather gets closer, NFU Scotland, along with NFU Mutual, the Scottish Government and the Health and Safety Executive, has told farmers to remain vigilant.
This timely winter safety warning has come after the agricultural community learned of the outcome of the inquiry into the death of Jim Sharp, who is the former NFU Scotland board convenor.
It turned out that Mr Sharp, 66, was pulled into a barley silo by his shoe lace while he was working along on his farm.
The Farm Safety Partnership is working to help ensure farmers are taking great care this winter and throughout the year as a whole.
The four areas that they are asking farmers to focus on are livestock accidents, workplace transport accidents, falls from heights and machinery incidents.
These account for over 70% of the fatal injuries on Scottish farms.
News