Cambridgeshire farm now farming crocodiles
News
•
Wednesday 05 February 2014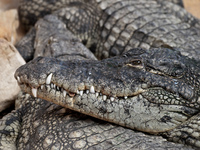 We have spoken here on Farming ads about the future of British farming from the issues surrounding the reductions in CAP to the use of robots and drones on farms. But one thing that we never thought we would mention was the farming of crocodiles in the UK.
Andy Johnson, 43, is a fourth generation farmer who lives in a village near Huntingdon who looked beyond traditional farming in the mid 1990s. When dairy became unavailable and the BSE crisis struck he and his wife Tracey decided that they would diversify by breeding quail to sell to zoos and bird of prey owners.
Then, while they were farming these birds, they had the idea of using crocodiles to dispose of unwanted waste and carcassses.
Speaking to the Telegraph, Andy said: "I'd read that crocodiles eat anything so I looked into it and found somewhere in Belgium which supplied them."
After successfully applying for a wild animal licence in 2006 he then took delivery of four Nile crocodiles, which he housed in a specially adapted building with a pool, a constant temperature of 30C and artificial sunlight.
It was then that Andy became the first crocodile farmer in the UK.
It was not all plain sailing, however, as it turned out that three of the 'female' crocs turned out to be male. This lead to the dominant one, called Romeo, to kill the others.
Replacements were brought in and in July 2011 two babies were born. This meant that Andy became the first British farmer to breed crocodiles in captivity.
According to the Telegraph, the Johnsons are now drawing up plans to build a larger crocodile house which will measure 150ft by 60ft, which will have its own swamp to accommodate a commercial breeding programme for meat production.
A crocodile's gestation period is 90 days and they can produce between 30 and 70 eggs once a year. However, the wait until the meat is ready to eat is a long time - around four to five years. It tastes like monkfish and is low in fat and cholesterol.
As well as the crocodiles, the Johnsons' farm also has 100 cattle, 200 pigs and 70 deer - the meat from which is sold in the farm shop.
On top of all of this they also sell other bizarre and interesting meats including crocodile, ostrich, antelope and zebra that are imported from South America; python that is imported from Vietnam; kangaroo from Australia and reindeer from Scandinavia.
And, as if all of this wasn't enough, there is also a children's play area outside where visitors can see 12 rhea, six llamas, three alpacas, four wallabies, six peacocks, four European storks, two red parrots, one ostrich and 60 guinea fowl.
Andy continued: "When the BSE problems happened, we thought we might lose the farm, which was a terrible time. I'd even thought of applying for gardening jobs at the university – I thought my time was up in farming. But we wracked our brains and came up with the quail production which helped save the farm and ultimately has led to this.
"I think the big problem is that a lot of farmers are not used to letting the public on to their land and being welcoming. I still struggle sometimes, but you have to change and my sons are great with it. Smaller farms like ours have to change otherwise they'll close, it's as simple as that."
News