Bovine TB: 90 cattle slaughtered every day last year
News
•
Thursday 13 March 2014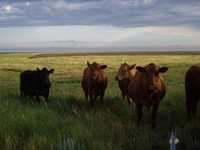 Over 30,000 cattle were slaughtered in Great Britain in 2013 due to bovine TB.
New figures released revealed that exactly 32,620 cattle were slaughtered, which equates to almost 90 cattle being killed each day as a result of the disease.
The figures also showed that the incidence rate, which is the proportion of previously healthy herds that were found to be infected with new incidences of the disease, was 4.5%.
Speaking to FarmingUK, the Farming Minister George Eustice, said: "Our efforts to control bovine TB have kept outbreaks steady over the last ten years, but we are still nowhere near an acceptable position. Almost 90 cattle are being slaughtered each day due to bovine TB and we cannot allow that to continue.
"Today's figures are another reminder that we need to do all in our power to bear down on a disease that is costing taxpayers millions each year and taking a terrible economic and emotional toll on our farmers."
Last summer Defra consulted on a 25-year TB eradication strategy, which included proposals for disease surveillance, pre- and post-movement cattle testing and more. This spring will see the strategy published.
It will also be focusing on the development of new techniques including badger and cattle vaccines and new diagnostic tests that could one day be used to tackle the disease.
However, the NFU has spoken out and said that the recently released statistics have highlighted that the disease is still a massive problem for beef and dairy farmers and needs to be dealt with on all fronts.
New NFU Deputy President Minette Batters, said: "While it is good news that fewer new herds went down with bTB last year and fewer cattle were slaughtered than in 2012, the figures show that the disease remains a massive problem for beef and dairy farmers.
"A drop in the figures is welcome but there are often fluctuations in long-term diseases like this. Bovine Tb continues to devastate farming family businesses and it is vital that action is taken on all fronts to control and eradicate it."
For more on this story click here now and head to FarmingUK.
Picture courtesy of
C.K Hartman
via Flickr Creative Commons.
News